Tailoring a Florida law firm's AdWords campaign to prioritize mobile users improved the quality of click-through-rates leading to an increase in new clients while reducing their conversion costs. Win. Win.
Search Text, Ad Copywriting, Keyword Research, A/B Testing for Ad Formats, Landing Page Creation, Device and Region Bid Adjustments
COUNCIL FROM NEW EXAMPLE BECOMES A LEGAL VICTORY
A law firm specializing in criminal defense was struggling to manage their AdWords campaign internally, which was losing ROI since it was first implemented. The cost to keep their campaign running had increased 65% over the previous year while new business was falling off. The cost of impressions were rising and they needed to find out why click-through-rates (CTRs) were healthy, but didn't lead to new client business.
First, there was a deep dive into competitive reports specific to the state of Florida on user preferences, averages for CTRs, and other industry benchmarks. This data was compared to the law firm's AdWords performance reports and it was discovered that their campaign was capturing a higher than average proportion of mobile users, but the quality of traffic was very poor. These off-target click-throughs were in large part due to unrelated search queries that were consuming their entire daily budget.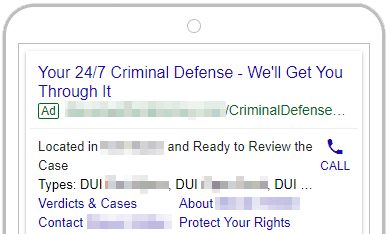 Q1 Google Ad
Click-Through-Rate: 6%; Conversion Rate: 29%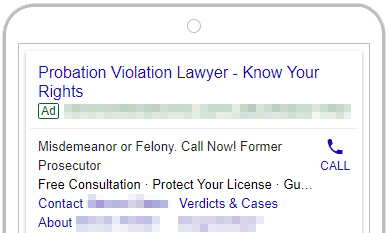 Q2 Google Ad
Click-Through-Rate: 5%; Conversion Rate: 22%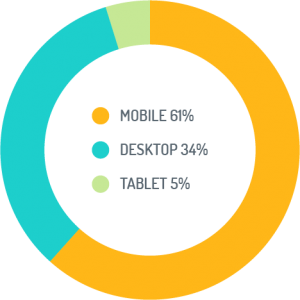 Breakout Of Campaign Traffic By Device
Clients search more for legal services on mobile devices than desktop or tablet
To remedy this situation, New Example took a "mobile first" approach to SEO. They expanded the negative keyword list from 41 to 870, upgraded their campaign tracking, installed new conversion scripts that tracked website contact leads, calls from the ads and their website, and finally, moved them to an improved tag management system to maximize desired traffic.
The updated and comprehensive understanding of how the law firm's prospective clients search for legal services enabled them to pinpoint the day of the week and even the time of day when people in legal trouble will likely search for a defense attorney. Bid increases were made for those days and times, which put them above competing law firms in search results. After utilizing demographic and geo-targeting tools combined with other improvements to their AdWords campaign, new client retainers grew while their ad spend was significantly reduced.
Want to learn how we can boost your online presence, brand image, and bottom line?